I originally had the idea for this program while putting my kids to bed one evening. I was looking at their precious little faces and thanking God for the life I live and the success He has given me. I was starting to think about all of the moms out there who fail at this business before they even get a chance to start. They are lost and don't know how to find their way into this amazing career. How can I help them learn and grow? How can I help them succeed? Feed their kids? Become what they were meant to be? Because, let's be honest, you can't know what you don't know.
I get asked all of the time, "what's your secret sauce?" As in, what's the secret to being a successful Real Estate agent. My answer has always been the same: there is none! Until I started thinking about it, and I mean really REALLY thinking about it. I came to the realization very quickly that just because there isn't one secret sauce everyone doesn't mean there isn't a secret sauce for YOU. What works for me may not wok for you and what works for you may not work for someone else. However, there is a way to get started and build momentum. There is a way to set yourself up for success. So many agents say they started by throwing shit on a wall to see what sticks, and that's okay! But I think there's a better way.
After having my brilliant epiphany, I realized that even though there may be a way, it's not available to #RealtorMoms. We are just too busy with life and don't have the extra change to spare. You may see coaches and programs, masterminds, trainings and mentors; but they all want something in return. They want your money and for you to spend thousands on their programs. I get it! They are business owners trying to run a business. And it works, their programs are solid! As an agent who had no money to begin with and a family to support, I know that's not realistic for most. What we need as agents is a guided path to follow. A simple step-by-step guide to start and run a Real Estate business while also managing a family and life! Don't get me wrong, it's not going to be easy. It's going to be really really hard, but…. it's simpler than you think. You are going to have to work at it every single day. Practice self-discipline and be in control of your time. Make sure your mindset is right. But if you do this and give it 100% of your efforts, you will succeed…. because when you make a bet on yourself, you don't fail.
Be part of the INNER CIRCLE!
This program is so much more than just coaching. It's guidance, tools, resources and a community of #RealtorMoms who are raising families and growing a successful real estate business. Whether you are a new agent or experienced agent, this program can be a fit for you.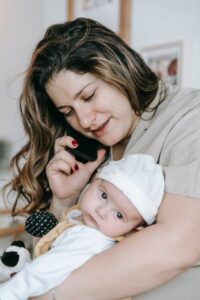 Sign up for our "Mom's Minute" Newsletter!