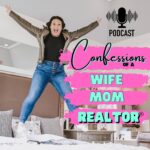 Standing tall at about 5 foot nothing, Laura Coy spent the beginning of her professional career as an Airman in the US Air Force. After having kids, deploying, and a divorce, she swapped out her boots for civilian life. Now a blended family of 6 kids, she runs a top-notch home inspection company with her now Navy Husband, Ryan Coy.
To contact Laura, visit her website at https://www.propreciseinspections.com/
To connect with our host Nicole, visit www.RealtorMomMasterclass.com.

Follow Nicole on social @RealtorMomMasterclass

If you are interested in being a guest on this podcast, email Nicole Ward at RealtorMomMasterclass@gmail.com.