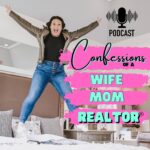 Nicole went from being a full-time stay-at-home mom to a full-time Real Estate Agent. Her transition was not easy but with the help and support of her kids and husband, she has quickly become a top agent in her market! Listen as she discusses teaching her kids about finances & careers, her daughter's diagnosis, and building a life she's proud of.
To connect with our host Nicole, visit www.RealtorMomMasterclass.com.

Follow Nicole on social @RealtorMomMasterclass

If you are interested in being a guest on this podcast, email Nicole Ward at RealtorMomMasterclass@gmail.com.