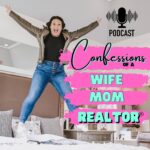 From agent to mom to manager and back to the agent again! An in-depth chat with Daniela Morey out of Northeast Ohio!
To connect with our host Nicole, visit www.RealtorMomMasterclass.com.

Follow Nicole on social @RealtorMomMasterclass

If you are interested in being a guest on this podcast, email Nicole Ward at RealtorMomMasterclass@gmail.com.