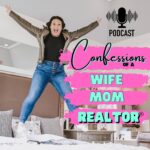 This week on Confessions of a Wife, Mom & Realtor, I chat with Christina Swyers out of St. Louis, Missouri. Christina is a mom of 3 boys and she is absolutely crushing it with her Real Estate career! Listen now for an inside look at Christina's life & business!
Connect with Christina Swyers on Facebook –> https://www.facebook.com/christinaswyers
To connect with our host Nicole, visit www.RealtorMomMasterclass.com.

Follow Nicole on social @RealtorMomMasterclass

If you are interested in being a guest on this podcast, email Nicole Ward at RealtorMomMasterclass@gmail.com.