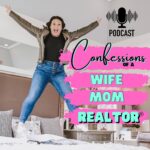 Amanda doesn't quite fit the mold like most of our other guest speakers do. She doesn't have human kids… her kids have Paws! Listen to how Amanda lives and breathes animal rescue all while running her real estate business and the tolls it can take on one woman's life.
You can connect with Amanda on Facebook @amanda.emigh.5
To connect with our host Nicole, visit www.RealtorMomMasterclass.com.
Follow Nicole on social @RealtorMomMasterclass
If you are interested in being a guest on this podcast, email Nicole Ward at RealtorMomMasterclass@gmail.com