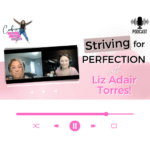 Liz is one of those rare mamas who has her $h!1t together! She is always on time, has a financial advisor and was well prepared for the life of a small business owner prior to starting. Liz has an amazing story and her methods are something to strive for!
You can connect with Liz on Facebook @LizAdairTorresREALTOR
To connect with our host Nicole, visit www.RealtorMomMasterclass.com.
Follow Nicole on social @RealtorMomMasterclass
If you are interested in being a guest on this podcast, email Nicole Ward at RealtorMomMasterclass@gmail.com