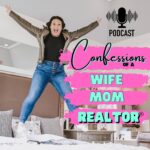 **This episode is a tough one, so full disclaimer to our listeners who have experienced pregnancy and loss, this may be a triggering episode. Join me as I interview Alicia Barton, an up-and-coming agent crushing it in Northeast Ohio! Alicia is a warrior mom who has walked through the fires and come out shining. Listen as she tells her heartbreaking truths while still able to lighten the mood with a crazy potty experience she had with her son while at a showing!
To connect with Alicia directly, visit her website at aliciabarton.kw.com
To connect with our host Nicole, visit www.RealtorMomMasterclass.com.

Follow Nicole on social @RealtorMomMasterclass

If you are interested in being a guest on this podcast, email Nicole Ward at RealtorMomMasterclass@gmail.com.