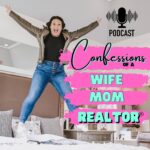 Vibrant and charming, Ashley has a plethora of cultured life experiences. She's lived all over the country, performed in comedy clubs, and survived a crisis no mother ever wants to face.
To connect with Ashley directly, visit her website at: https://ashley-mostoller.remax.com/
To connect with our host Nicole, visit www.RealtorMomMasterclass.com.

Follow Nicole on social @RealtorMomMasterclass

If you are interested in being a guest on this podcast, email Nicole Ward at RealtorMomMasterclass@gmail.com.