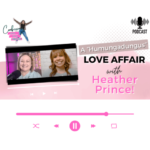 Heather is one of the first real estate business owners who is also a single mom to guest on our show! Heather is full of brightness & humor, check out how she got started and grew her business to what it is today!
You can connect with Heather on Facebook @heather.prince.56
To connect with our host Nicole, visit www.RealtorMomMasterclass.com.
Follow Nicole on social @RealtorMomMasterclass
If you are interested in being a guest on this podcast, email Nicole Ward at RealtorMomMasterclass@gmail.com