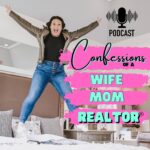 This week's episode is all about making tough decisions and recognizing when to say "no." Join me while I chat with Cyndi Foster about her growth and experience with career changes as well as raising a family!
To connect with our host Nicole, visit www.RealtorMomMasterclass.com.

Follow Nicole on social @RealtorMomMasterclass

If you are interested in being a guest on this podcast, email Nicole Ward at RealtorMomMasterclass@gmail.com.